Senators - Philip Ozouf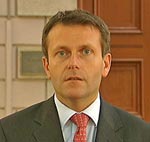 Philip Ozouf joined the States in 1999 when he was voted in as a deputy for St Helier, then six years ago he became a Senator.
He's the Minister for Economic Development and believes some of his greatest achievements have been in developing the tourism industry, notably through securing funding for the Battle of Flowers and creating new airlinks for the island.
Senator Ozouf supports government reform and says if he is re-elected he is keen to work on more cultural and social projects.
[ Source : BBC Jersey ]
Proposers
Geoffrey Grime
Freddie Cohen
Jenny Pitman
James Dickinson
Jacqui Huet
Lyndon Farnham
Robert Jones
Elena McGowan
Thomas McGowan
Edward Trevor
[ Source : Channel Online ]
---
---
Proposer Geoffrey Grime reminded the audience that Senator Ozouf was first elected to the States in 1991 as a Deputy in St Helier.
He said that the Senator was just 29 years old and at the time the youngest States Member in the House. He was currently the second-youngest Politician serving in the Island. In 2002, he was elected a Senator and topped the poll in 11 out of 12 Parishes.
Mr Grime cited Senator Ozouf's outstanding record of service and his valuable experience gained from serving on many different committees, including a term as the former President of the former Environment and Public Services Committee.
He added that Senator Ozouf had played a major part in government reform following the Clothier report and also in Tourism. He described him as youthful, energetic and hard-working, and as a man who was keen to promote the cultural aspects of Jersey.
[ Source : Philip Ozouf ]
---
---
In all likelihood, the candidates you choose will be called to serve as ministers. They lead departments; responsible for millions and make policies and decisions, which affect our day-to-day lives. Now, they also have to represent the Island in London.
So why Philip Ozouf?
I introduced the Jersey Competition Law which banned cartels and price fixing.
I solved the unfair parish rates issue.
I was the first politician to suggest shared equity, enabling first time buyers to get onto the property ladder.
As the minister responsible for the economy, I have both grown and diversified the econmy, as well as strengthened the finance industry.
I have earned a reputation as a team player and leader respected by all sides of the States.
The next six years are likely to be tougher. The world's economy is in turmoil and whilst, due to foresight, we are able to deal with these challenges, Jersey will need to be represented by people with new ideas and experience.
If you want a politician who has proved himself to be effective, has the drive to make things happen, then consider me... I will not let you or Jersey down.
[ Source : This Is Jersey ]
---
---
In the next few days islanders will choose six candidates who will in all likelihood be some of those States members who are called to serve as ministers.
Ministers who will lead departments, be responsible for millions of pounds of taxpayer's money, represent the island in London and further afield, and what's becoming increasingly clear also steer the island through a much more difficult economic situation that we've seen in the last three years.
I stood as a States member nine years ago, I came up through the ranks, six years ago being elected as a Senator. The last three years I've discharged the duties of Economic Development Minister, responsible for the economy.
Our economic growth over the last couple of years has been the envy of others. Whilst we don't run businesses we create the climate and I'm very proud that we've created economic growth mainly delivered by productivity improvements, not by population increases which I know are of a huge concern to many islanders.
Whilst I've obviously been commenting mainly on economic matters over the last three years, my politics are much more than just about finance.
I'm a very independent politician, six years ago I set out a number of promises; for example I promised to deal with the unfair rates burden which meant that urban parishes were being unfairly charged welfare. I solved that my working with the constables and we've now solved the unfair rates burden across the island.
I also wanted to focus on St Helier, which is of course the main population centre for Jersey, and also where the majority of people work. Many listeners will perhaps remember Broad Street where I had a vision to improve town, and we delivered Broad Street and many other town improvements.
I'm perhaps best known for introducing a Competition Law, not as a minister but as an independent member, which at last outlawed cartels and price-fixing, and this has made a real difference and begun to make a difference on prices in telecoms, transport and many more areas.
I'm passionate about Jersey, and believe that the States has got to engage with people more.
We've also got to be tougher on spending, and deliver the promises that we made in order that we're able to deliver, and continue to deliver, top quality health and education services and also provide for our senior citizens now and into the future.
I don't want to see also an island which builds on anymore green fields and I don't believe we have to.
We've got to deliver an elderly health scheme and I also want to see and island where every islander can aspire and achieve the legitimate goal of home ownership.
Three minutes is not nearly enough time to explain all of my policies. You can read them on my website ozouf.je.
If you want a candidate who has proved that he works hard for Jersey, that gets things done, that does listen and responds, and that can help steer the island through the next few years I hope you'll consider be for one of your votes.
But I'd like to say that whoever you support, please do use your vote; it does matter.
An audio version of this election manifesto is available from BBC Jersey
[ Source : BBC Jersey ]
---
---
POPULATION - The best way to control population is by limiting the number of jobs available. This needs to be controlled to protect the countryside. In the past, this has been controlled by a combination of the Housing and Regulation of Undertakings Laws. These laws are being re-written into one law and will be more effective in the future. In addition, a population register will be introduced to give us better information than the census. Ultimately the States will decide the population figure that will need to match the provision for non-working pensioners from the working population.
ECONOMY - The world financial markets are in turmoil. The careful stewardship of our economy shouldsignificantly insulate us from these cataclysmic events. Whilst I have been Economic Development Minister we have pursued polices of entering new markets and delivered more diversified services and industries. I have promoted local business and launched 'Jersey Enterprise' which now supports hundreds of Jersey businesses. It is vital that these efforts continue.I do not believe that the economy should be allowed to grow at the cost of the environment or to the detriment of standards of living in Jersey.
GST - Due to international competition the Island has had to change its tax system leaving revenues short. GST was thoroughly debated and chosen as the least worst option. I will robustly oppose ANY attempt to increase GST above 3%.I have supported the measures to give back the cost of GST on food and energy by increasing income support and tax allowances immediately.
PRICES AND INFLATION - There has been an unprecedented rise in food and fuel prices. However, despite GST, Jersey's RPI has remained at virtually the same level to Guernsey and the UK. The Jersey Competition Regulatory Authority (JCRA) and the Competition Law, which I introduced, have helped to keep price rises similar to elsewhere. Also, price fixing and cartels are now banned; however we still need to do more to cut the cost of living. I have faced a lot of pressure in my campaign to lower prices and the arrival of a deep discount store in Jersey would boost competition and lower prices.
ENERGY AND PRICES - Affordable and reliable energy has fast become a major political issue. I am chairing a task-force which is reviewing the Island's Energy Policy including looking at renewables. At my request the Statistics Unit will now be publishing energy prices to name and shame excessive pricing and allow consumers to shop around. Insulating homes reduces energy costs and the States will be providing over £1m in home insulation grants during 2009 this will be particularly directed at senior citizens and lower income households. I also propose taxing all energy companies at 20%, which, as in other countries, will help pay for further grants.Securing long term affordable energy will be one of my top priorities.
REFORMING THE STATES- I want to see the number of States members reduced. I support retaining the island-wide mandate for Senators and the Constables remaining in the States. The number of Deputies should be reduced to 21. This reform is best delivered through an Electoral Commission.I also want to see the States Assembly operating more efficiently as a proper Parliament.
MINISTERIAL GOVERNMENT - There needs to be tighter control of ministerial orders and decisions. There are opportunities for much better co-ordination between ministerial departments particularly through the appointment of assistant ministers with cross-departmental responsibilities such as children, skills, senior citizens and environment.Greater efficiencies can be achieved between ministerial departments.
INTERNATIONAL RELATIONS - It is vital that the States has politicians capable of representing Jersey's best interests overseas. The Island regularly faces international pressure and we need to protect our interests in dealings with the U.K. and the E.U. I have represented the Island at inter-governmental level on a number of occasions. I have been regularly interviewed by national and international media.
GUERNSEY - Building stronger relations with our sister island will create opportunities to save money, boost competition and assist with our international relations. I have proposed a "Channel Island Commission" of elected Jersey and Guernsey politicians, to develop proposals for more co-operation between the Islands.
GREEN FIELDS - With the exception of a limited Parish supported retirement housing schemes. I do not believe any further development in green field sites for the foreseeable future. Studies are now showing that there are plenty of opportunities to increase housing supply through town generation.
PUBLIC UTILITIES - The public owns 100% of Jersey Telecoms, 86% of Jersey Water, more than 53% of the JEC, as well as millions of pounds worth of other assets such as car parks, harbours, the airport and much more. There is considerable scope for streamlining some of these business to provide lower prices to consumers and a better return for taxpayers.
PROPERTY - I would radically reform the use of States property and get better value from these multi-million pound assets. I would be prepared to dispose of surplus, non-strategic property, particularly those that could boost housing supply. Some Housing stock could be earmarked for sale to their occupiers on a shared-equity basis. I would ensure any property sold gets maximum value for the public.
SEWAGE SYSTEM - I want to see the Island's sewage system extended. It is unfair that those not connected to main drains have to pay for tanker collection. The cost could be funded by a small supplement on water rates and phased in over 10 years. I also want to see the unacceptable smell at Bellozanne addressed with the installation of a deodoriser.
SOCIAL SECURITY - Social Security contributions were raised a few years ago to ensure the pension fund kept pace with an increasing elderly population. Supplementation is the cost of providing lower earners' future entitlements, such as pensions. However, the cost of supplementation has risen to more than £80 million per year. The scheme needs to be reviewed to ensure benefits are going to the right people. We need to consider lifting the cap on social security contributions by introducing additional payments for higher earners. The contributions paid by the self-employed needs to be reviewed as this can be a real problem for small businesses. The system needs to be flexible to ensure people who miss a payment, but have contributed, properly receive the benefits they are entitled to.
INCOME SUPPORT - has now been introduced and is much fairer than the previous 23 benefits it replaced. The new support is benefiting more families, however, the scheme needs to be constantly reviewed to ensure there is a greater incentive to work. Income support must be up- rate to counter the effects of rising food and fuel prices.
FURTHER EDUCATION - Ideally, the States would pay for all further education fees. However, the UK has introduced top up fees and an increasing numbers of students want to study away. The States' further Education budget would need to be significantly increased to fund every student. However, no young person should be disadvantaged because of his or her family circumstances and assistance needs to be targeted.
OVERSEAS AID - Jersey aim to meet the UN recommendation of giving 0.7% of its gross national income. In global terms we are a wealthy society and we have an obligation to help less fortunate countries.Jersey is unique in the way it targets aid - this must continue. Islanders also make large voluntarily charitable donations which boosts our contribution. We should continue to support the voluntary sector, including the Overseas Aid Volunteering Scheme and organisations such as SideBySide, who make us one of the most generous places in the world.
LAW AND ORDER - We are fortunate to live in a relatively low crime island; we must keep it that way. Night-time St Helier remains a concern. I favour being tough on the causes of crime with licensing review and education. Our Honorary system provides a unique and useful addition to the States Police in crime prevention and detection. The parish hall inquiry system acts as a useful method to deal with small infractions avoiding - in some cases - unnecessary criminal records at an early age.
RECYCLING- I want to see the Island recycle as much as possible. Islanders have shown they're keen to recycle with kerb-side and central point collections.We should be aiming for a minimum target of 50% along with encouragement for home composting and a reduction of black-bag waste.
INCINERATOR - I campaigned to shut the existing Bellozanne incinerator whilst a St Helier Deputy. It does not meet international standards and is long past its useful life. Alternative technology has been thoroughly investigated, and, despite claims to the contrary, no suitable alternatives were not found.
HEALTH - The whole system of Primary Care needs reform. The Health Insurance Scheme is currently running with an annual surplus of £10 million with more than £60 million in the bank. Some of this fund should be used to subsidise visits to the doctor and also extend non-means tested preventative care and screening, especially for children, oligarchs and senior citizens.
AGRICULTURE AND THE ENVIRONMENT - Coming from a farming family I feel passionately about the countryside and do not support the development of green field sites. We depend on farmers to keep our rural landscape of small fields, separated by hedges and Jersey cows. We must support bona fide farmers with a combination of extending the rural initiative scheme, the countryside renewal scheme and other targeted aid.
WATERFRONT - It is essential for Jersey to retain its position as a world-class offshore centre. The development will provide 400 homes for families and I want to see the £75 million generated from the scheme ring-fenced, then used to regenerate town. The plan will provide new public spaces including a Wintergarden. However, we do need to ensure that the contract with the developers is water tight to protect the Island's interest.
COST OF HOUSING - A successful economy creates the challenge of higher house prices. I want an island where all young people can aspire to the goal of home ownership. I was the first politician to promote shared equity and removed the "lottery" of first time buyer allocations. I also conceived and delivered the system of "Planning Obligations" which - for the first time - has delivered hundreds of social rented units and first-time buyer homes. We can do more and I want to see these obligations extended to all commercial sites.
STATES SPENDING - The key is value and efficiency. When I was Vice-President of Finance and Economics in 2002-2005 we reduced spending. The Comptroller and Auditor General has reported that further savings are possible. Some of these are going to be challenging to achieve without affecting essential services. I have proved savings can be made at Economic Development and believe a similar strategy can work in other departments. In addition the States work out of numerous sites across the Island, consolidating these would increase efficiency and reduce cost. I am tough but realistic on spending andhave focus on delivering best value.
SCRUTINY - has a vital role to play in the States Assembly and needs to be properly resourced. Scrutiny provides the essential checks and balances necessary to hold ministers to account. I would improve scrutiny by creating new panels with islanders adding local expertise to aid our decision-making and legislative process.
COMPTROLLER AND AUDITOR GENERAL AND PUBLIC ACCOUNTS COMMITTEE (PAC and C&AG) -These have proved to be one of the most successful new arrangements of ministerial government. Savings have been identified and whilst it will be challenging to deliver all of them it is essential that support is given to achieve savings that are politically acceptable.
TOURISM - The visitor economy remains a vital sector in Jersey employing around 4,000 people and makes the Island the vibrant place it is.The bringing together of Tourism and Harbours and Airports departments has been very successful and in the last 2 years arrivals and tourists are up.The sector can be even better supported with the creation of a Public Private Partner initiative comprising of Industry leaders and professional marketing.
YOUNG PEOPLE - I have been the youngest Deputy and Senator for the last 9 years and as a result young people regularly contact me with their views and concerns.I understand that the cost of further education, the type and diversity of job opportunities available in the future and the concern of rising house prices are all of particular concern to young people.My policies are designed to tackle all of these issues.
SENIOR CITIZENS - Over the next 20 years the number of senior citizens will more than double. In our wealthy Island no senior citizen should face hardship of any kind.We must also acknowledge the debt owned to our senior generation for their contribution to the Island we enjoy today.I understand the concerns that have been raised concerning means testing of benefits and will review how to deal with this.
COMPEITITION -I have been responsible for the introduction of the Jersey Competition Regulatory Authority (JCRA) and the Competition Law which has banned cartels, price fixing and as a result lowered the cost of phone calls, transport and Lawyer scale fees.I will continue to ensure the JCRA is given full support and that the powers are further enhanced to ensure prices become more competitive.
THE ST HELIER PROJECT - as originally a St Helier Deputy I have never forgotten the people who originally elected me. St Helier is the commercial and economic centre as well as the place where a third of Islanders live.We have solved the unfair rates burden and started to regenerating town a great deal more can be done and I will work with the Constable to St Helier to achieve positive results for St Helier.
CLIMATE CHANGE - There are real pressures facing the world as we understand the consequences of man kinds action on our environment.Jersey is not unaffected by these issues and we should aim to be a responsible Island minimising our environmental footprint.I will support the continued the focus on environmental issues particularly using Eco-active as a means of explaining and changing behaviour.
WOMEN - Jersey has one of the highest Female participation rates in the world. It is the responsibility of the States that all women should have choice in their family arrangements.It is also essential that all women have equality of opportunity in our society.
DISCRIMATION - I am against all forms of discrimination of gender, age, race, disability or sexual orientation.I helped set up the Jersey Community Relations Trust and will continue to support identifying and where necessary eliminating any discrimination. I believe we need to respect others.

[ Source : Philip Ozouf ]
---
---
Age: 38
Education: Educated at Victoria College. Graduated with BA(Hons) in languages, business administration and economics from the European Business School in London, Frankfurt and Paris.
Employment: From 1992 till 1998 was recruited by Cargill Inc. Whilst studying for CIMA examinations and worked in various divisions around the world.
Occupation: States Member
Hobbies/Interests: Keeping fit, skiing, traveling and international current affairs.
[ Source : This Is Jersey ]
Philip and his twin sister were born in 1970. He was educated at Victoria College and went on to study international business and economics at the European Business School in London, Frankfurt and Paris.
Recruited by one of the world's largest industrial corporations on their fast track management programme, he was assigned to the Company's worldwide audit division and performed financial and operational reviews around the globe in a variety of sectors from coffee sorting in Kenya to petroleum trading in Geneva. During this period he continued to study, completing Stages 1-3 of the Chartered Institute of Management Accountants. In late 1997 he returned to Jersey to a family business.
In November 1999, Philip Ozouf topped the poll in St Helier No. 3, securing more votes than any other candidate Island-wide.
The youngest member of the States, he has been one of the busiest, sitting on a significant number of committees and boards over the past 34 months.
On his first day in the States in December 1999, he was immediately elected as President of the Etat Civil Committee. The Committee has been responsible for re-vamping the Island's marriage laws, which has allowed, after years of delay, marriages to take place all over the Island - a welcome boost to Tourism.
He has also steered the 2001 Census, regarded as the most successful in modern times, giving a wealth of new information for committees across the States to provide better services and help solve Jersey's housing problems.
He has sat on four major committees – Finance & Economics, Industries, Public Services and Housing, again a record for a junior States member.
Whilst on the Industries Committee, amongst many other things, he took the new Telecoms law to the States. He was responsible for setting up the Jersey Competition Regulatory Authority, Jersey's new competition watchdog, which will become the equivalent of Jersey's Office of Fair Trading.
In the States, he has earned a reputation as a tough questioner.
As a Deputy for the Island's largest district, from 1999-2000 he had a heavy constituency workload. Many of these matters never enter the public domain as they are personal and confidential. What can be said is that he has brought more cases to the Housing Committee than probably any other States member, and won each case for his constituents.
At the end of 2002, he stood in the Senatorial elections and topped the poll in eleven out of 12 Parishes.
In December 2005 he was elected as Minister for Economic Development.
He has presided over period of record economic growth, job creation and low inflation for the island. He has taken through numerous pieces of Legislation modernising and reforming Finance Industry. Having changed focus of Jersey Finance, he has provided new funding to secure growth of Finance in London, the middle East and Asia Pacific. He commissioned research from London Business School which has lead to the setting an agenda for the future of Finance for the next ten years. He has overseen a change in fortunes of Tourism bringing, Harbours and Airport together. He has set up support for business by creation of Jersey Enterprise. He has supported other industries as diverse as the Fishing Sector and to Central Markets. He spearheaded putting Awards for Enterprise as Islands biggest corporate event.
[ Source : Philip Ozouf ]
---
---
REFORM OF MARRIAGE LAWS
As President of Etat Civil, in 2000 after years of prevarication, reformed Island's Marriage Laws, liberalising marriages and opening up the Island for marriages from outside the Island. Today hundreds of couples visit the Island to as a result of the reforms. People have visited the Islands as couples or guests of couples getting married.
2001 CENSUS
As President of Etat Civil, Oversaw 2001 Census, regarded as most accurate and detailed census of modern times. Estimated for first time Island population undercount and provide States with most accurate base line data on population, housing and many other statistics.
LIBRALISED TELECOMS
Developed, oversaw and took through States reform of Telecomunications market. Incorporating Jersey Telecoms from a States department to State owned company, liberalised Telecoms market and set-up Jersey Competition Regulatory Authority: the Islands first independent regulatory body. Since that time Telecoms has become more competitive, quality of services has increased and prices fallen.
INCORPORATED JERSEY POST
Oversaw incorporation and liberalisation of Jersey Post.
COMPETITION LAW
Pioneered creation and adoption of Island's first Competition Law. Result in making price-fixing illegal and putting in place merger and acquisition controls to prevent over concentration of individual firms in Jersey. It is widely regarded as one of the major drivers for lower prices in many sectors.
UNFAIR WELFARE BURDEN
As a member of States Parish Working Party, designed new States Rating System including introduction of new Island-Wide Commercial and Domestic Rates which has lead to reform of unfair rates burden. Parishes who benefited most from this were St Helier, St Saviour and St Clement.
PUBLIC ACCOUNTS COMMITTEE
As Vice-President of Finance and Economics, established the Public Accounts Committee and creation of the office of Comptroller and Auditor General. The PAC provides the first independent watchdog on States expenditure.
WASTE STRATEGY
In June 2005, as President of Environment and Public Services successfully steered, after years of prevarication by previous Committees, steered and got near unanimous States approval for new Waste Strategy for the replacement of the Bellozanne Incinerator (sadly, the decision for the replacement of Bellozanne which was ready for final approval later that year took 2 more years to resolve after I left E&PS)/
INVESTMENT IN ROADS
As President of Public Services, after years of over charging and under investment in our roads, I spearheaded the renegotiation of contracts for road repairs. This resulted in miles of much needed resurfacing on many Islands arterial roads (it is with sadness that I have recently seen a return to poor decision making at West Park).
PLANNING OBLIGATIONS
As back-bencher then President of Planning frustrated that following re-zonings of green land nothing was invested back into much needed affordable and social rented housing, I introduced, despite much opposition, a system of Planning Obligations (the 45:55 policy) which captured some of the windfall gain of re-zoning and provided community facilities and hundreds of units of social rented housing.
PLANNING
During my tenure as Environment and Public Services President, I took over a Committee in crisis, that moved from having one of the lowest reputations in the States to one of the highest of any Committees by the time I completed my term. Under my leadership, numerous major problems were tackled solved including: resolution of the significant problems associated with the Connex Bus Contract, rescinding the ill-judged Trinity In Fill Decision, putting in place stronger guidelines and raising standards for Planning Committee Members, Commissioning the Sheply Review of the Waterfront, raising the quality of Planning decisions (which Senator Cohen has built on since), passing numerous Planning Permissions such as The Royal Yacht Hotel, Liberation Station).
STATES REFORM
Was a key member responsible for pushing ahead reforms recommended by Sir Cecil Clothier. Proposed introduction of Questions without Notice, the key way backbenchers hold Ministers to account publicly.
MIGRATION POLICY
Chaired working party overseeing reform of outdated, unfair and complicated Housing and Regulation of Undertakings Laws. Effectively personally designed new system which streamlines and strengthens functions of Population Control which will lead to better information, fairer and tighter control of migration.
EVENTS
During last three years, put in big focus for events which benefits Islanders and visitors including, Liberation Day Celebration at People's Park, Boat Show, Kyran Bracken Ice Show, Branchage Film Festival and after years of problems (and whilst this has not been trouble free) increased funding for Battle of Flowers, International Air Display and Fete des Noues.
[ Source : Philip Ozouf ]
Current responsibilities
Minister for Economic Development
Senator Ozouf, as Economic Development Minister, has a wide remit, taking responsibility for subjects as varied as transport links, the Competition Law, the Rural Strategy. He is primarily tasked with achieving 2% real economic growth annually. This is something which has been recognised, even by his critics, as no small task.
Jersey Legal Information
Senator Ozouf is a board member, this group provides access to Jersey Legal Information through the internet.
Community Relations Trust
Senator Ozouf is a board member of the above trust which ensures that minority groups in Jersey are not disadvantaged.
Alliance Francaise
Senator Ozouf is the Vice Chairman of the Alliance Francaise Jersey branch.
Assemblee Parlementaire de la Francophonie
Senator Ozouf is a member of the 'french speaking' government assemblies, Jersey branch.
International representation
British Irish Council
Senator Ozouf attended the sixth meeting of the British-Irish Council on environment.
Notable achievements
Fulfillment industry
Senator Ozouf was responsible for 'cleaning up' the Jersey fulfillment industry by preventing companies who sought to exploit the UK VAT threshold by establishing a Jersey mailbox. The move drew criticism from Deputy Geoff Southern, as Chair of the Economic Affairs scrutiny panel, however the move was welcomed by Jersey businesses.
Ongoing campaigns
Gambling in Jersey
Senator Ozouf has called for Jersey to reform its gambling laws.
Financial Ombudsman
Senator Ozouf has called for the installation of a Financial Ombudsman in Jersey.
Ensuring competition of ferry routes
Senator Ozouf has been a primary driver for the move towards competition on Ferry routes into and out of Jersey and continues to seek the most competitive prices for Jersey people.
[ Source : Wikipedia ]
---
---