Constables - John Refault (St Peter)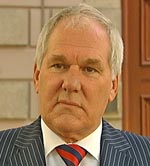 John Refault has served in the honorary police for more than 30 years.
John Refault has served in honorary positions within the Parish for more than 30 years.
He says he wanted to take on the role of Constable for the benefit of the community. He said constable was an important job and that it needed someone good to run the parish business.
Mr Refault believes his experience of working in the civil service means he knows the States inside out and comes with right the range of skills to be a good Constable.
He added he was totally dedicated to the parish and won't seek another role in politics if he's unsuccessful in the election next month - he just wants to serve his parish community.
[ Source : BBC Jersey ]
Former Airport fire chief John Refault will stand for the vacant Constable seat in St Peter at the end of the year.
Mr Refault, who is into his second term as a parish procureur, has announced that he will stand to replace sitting Constable Tom du Feu, who will step down at the end of the year after 20 years serving the parish as a Deputy and Constable. But he is not likely to be the only candidate – parish Deputy Collin Egré and Chef de Police Centenier Malcolm L'Amy have said they will stand if asked.
Mr Refault (59) worked as a firefighter at the Airport from 1974 to 2003, spending the last six years as chief officer.
Since then he has worked with Broadlands Estates as a self-employed property negotiator. He served in the parish honorary police, helped at the youth club and in 1986 formed the parish Battle of Flowers Association to produce the first parish entry in 26 years.
Mr Refault said that the response of the parish to the recent Broadlands fire had convinced him to stand. He said: "The extreme good will and generosity of parish people in particular, and from right across the Island, made me realise that being involved was something that I felt extremely happy about. It made me feel somewhat humbled that these same people were encouraging me to take a further step into parish and political life."
Mr Refault and his wife Christine have two children and two grandchildren. He was born in Jersey and educated at St Peter's School and Hautlieu.
[ Source : This Is Jersey ]
Proposers
David Payn
Roger Le Gros
Robin Hacquoil
James Simon
Julie Rabet
Francis Poignand
David Drage
Malcolm Pollard
Graham Le Cuirot
Mark Capern
[ Source : This Is Jersey ]
---
---
Mr Refault has the proven leadership skills, business acumen and strategic know-how to be a successful Constable, said his proposer, David Payn. He said that Mr Refault had demonstrated through his work as the chief fire officer for the Airport Fire and Rescue Service the type of leadership that would serve him well and ensure that he could deliver results. He said that Mr Refault also possessed fine inter-personal and communication skills and that he had devoted 32 years of service to his parish through the honorary system.
He is currently serving the parish as a procurer and has served in many roles including as a helper at St Peter's Youth Club, chairman of St Peter's School PTA and chairman of the St Peter's Battle of Flowers.
[ Source : This Is Jersey ]
---
---
In my role as senior Procurer du Bien Public, I am heavily involved in the management and administration of the parish and am therefore well versed in the parochial role of the Constable. St Peter needs a Constable who can demonstrate a record of performance, effective management of all processes, procedures and people and, the ability to work with tight financial controls whilst providing a service which, at the minimum, meets our parishioners' expectations.
During my 30 years of professional service in a commercial environment with the States of Jersey, many at management, senior management and executive level, I was fortunate to have received valuable training and experience in management and executive competencies, skills which I used on a daily basis and continue to use today in my voluntary roles.
It is these skills that I bring to the role of Constable for the benefit of the elderly, the families and the children and the businesses, all of which make up our community. Our community is special to me and it is the long-term sustainability and development of facilities for our parishioners that motivates me to stand for this role.
[ Source : This Is Jersey ]
A video of John Refault's election manifesto is available on Channel Online
---
---
Age: 60
Place of Birth: Jersey
Family: Married to Christine since 1970, son Lee born 1971, daughter Lucy born 1974, son-in-law Simon and grandsons Harvey aged four and James aged 13 months
Occupation: Retired Chief Fire Office and now self employed property negotiator
Hobbies/interests: My family first and foremost; secondly, vintage cars – I have two old cars a 1931 Lagonda and a 1935 Morris 8 and am currently president of the Jersey Old Motor Club which organises and runs the annual Jersey Festival of Motoring.
[ Source : This Is Jersey ]