Constables - Deidre Mezbourain (St Lawrence)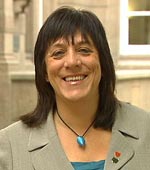 Deputy Mezbourian said she's standing after a number of parishioners asked her to, and she believes her experience as both an honorary police officer and deputy will stand her in good stead for the role of Constable.
If she's successfully elected the deputy said she would ensure stability in all aspects of running the parish. She added St Lawrence is already well managed and she would continue that work but in her own style.
[ Source : BBC Jersey ]
Proposers
Winston Le Brun
Jennifer Carter
William Morvan
Graeme Journeaux
Alan Read
Susan Kerley
Norman Le Riche
Eric Le Cornu
Brian Raffray
David Le Cornu
[ Source : This Is Jersey ]
---
---
Winston Le Brun, who proposed Deputy Mezbourian, said that filling the seat of retiring St Lawrence Constable Geoffrey Fisher was no easy task. He said that parishioners wanted individuality and wanted the Constable to bring his or her qualities to the fore. He said that the Deputy was an ideal candidate because she had already served the parish as a Constable's officer and Vingtenier.
And, as Deputy of St Lawrence, she had covered many roles including scrutiny chairperson and twice represented Jersey as a member of the Commonwealth Parliamentary Association. Mr Le Brun said that the candidate had the whole-hearted support of her loving husband David, grown-up daughter Amber and was prepared to be the parish's team captain and offer her services as Constable. He added that he had confidence that his candidate filled the criteria with an impeccable curriculum vitae.
[ Source : This Is Jersey ]
---
---
I am seeking election as Constable because: My experience of working as Parish Deputy, of serving for six years in the Honorary Police, and my involvement with many parish organisations, qualifies me to undertake the role of Constable. One of my primary concerns for the parish is to stem the impact of creeping urbanisation. As Deputy, I helped to reduce the density of the huge Goose Green development. Also, at my request, Millbrook playing fields will be considered for rezoning as an important open space in the Island Plan review.
Speed limits need to be reviewed. I was involved with the installation of electronic speed indicators near Bel Royal School, and in reducing the speed limit near St Lawrence School. Protecting our environment remains one of my priorities: I helped to procure sponsorship for our new kerbside recycling scheme, and to set up the recycling area at the community centre. Many volunteers give their time to ensure the smooth running of the Parish and its vibrant community spirit; I would continue to support their worthy efforts. As Deputy, I have balanced the needs of the Island and of the Parish, and am now ready to undertake the new challenge of Constable of St Lawrence.
[ Source : This Is Jersey ]
A video of Deidre Mezbourain's election manifesto is available on Channel Online
---
---
Age: 50
Place of birth: Jersey
Family: Husband David and daughter Amber
Education: Hautlieu Grammar School
Occupation: Deputy of St Lawrence.
Hobbies/interests: Reading, gardening; St Lawrence Ladies Action Group; St Lawrence Twinning Association; St Lawrence Youth Club management committee; St Lawrence Liberation organisation committee; St Lawrence Battle of Flowers Association
[ Source : This Is Jersey ]
---
---